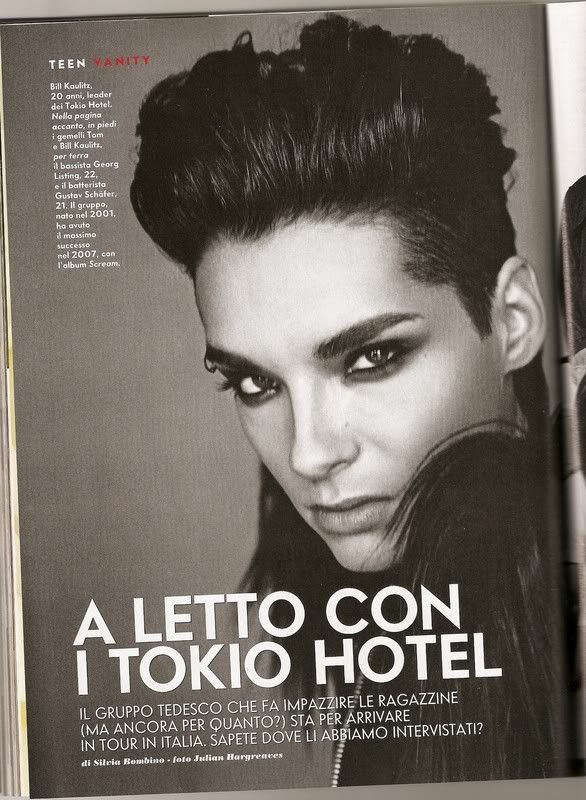 I love Bill's hair like this. He's so pretty!
Tom and Bill are looking so good right now! And Georg is a secret hotass, as always. Gustav is Gustav. (LOL, sorry Gustav)
Wow, for some reason this interview (from which the subject line of this enry is taken) brought home to me just how utterly...not normal...their lives are. I mean...having had assassination attempts at 16? Having to see movies after the last show? Not being able to go ANYWHERE without a body guard? I can't even imagine living like that or the effect it's had on their psyches.
It also got me thinking...in terms of Bill's sexuality... The last time he had a girlfriend or was 'in love' was 14? Most people don't count those relationships as anything but puppy love. He's never had a real adult relationship, not through that whole period when many people are figuring out who they are and who they are attracted to. (Unless they figure it out during the colleges years). And Bill has been in the situation where he's never gotten to do that kind of experimenting and figuring himself out.
So...even if Bill is gay...I wouldn't be surprised if he didn't know it himself yet. Especially considering how much pressure I'm sure there is on him to be straight, from the label, etc. (And even if you count just the pressure from himself, wanting to prove everyone wrong.)